Home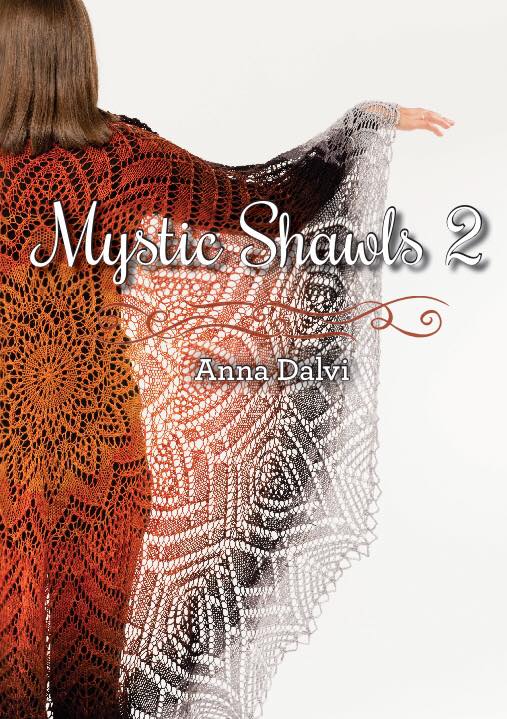 On Knit & Knag Designs you can find all the patterns by Swedish-Canadian designer Anna Dalvi.
Anna is originally from the west-coast of Sweden, but has traded the rugged cliffs of Bohuslän for the Canadian wilderness.  She is located in the rural parts of Ottawa and spends her summers knitting by Burridge Lake.
In her knitting, Anna enjoys variety more than anything else – from intricate lace to sprawling cables, and differences in colour and texture.  She has published several books with lace designs.
In Mystic Shawls, she has gathered 14 of her wildly popular patterns from her mystery knitalongs.  The book also includes photos of beautiful examples that other knitters created during the knitalongs, capturing the true community spirit of the KAL and the knitting world at large.
Mystic Shawls 2 continues the series of mystery knitalongs, and contains 12 new patterns.  There are several patterns using playful gradient yarns, and more colourful lace.  There are also two patterns – Zorya and Dazbog – which were originally published as advent calendars for knitters.  The patterns are provided in 24 daily pieces, and if you knit them all they become gorgeous shawls.  The popular Advent KALendars are continuing every year.
Ancient Egypt in Lace and Color is full of gorgeous, intriguing patterns that convey the mystery of ancient Egypt through form, texture and hue. Each piece is beautifully planned, intricately worked, and carries Anna's signature style — clear, precise lines and understated elegance.
Shaping Shawls, explains the construction of different shapes of lace shawls, and includes 10 patterns to illustrate the concept. It is a wonderful resource for anyone who would like to design their own lace shawls, and want to understand how to construct the various shapes. Additionally, it can help people who love to knit lace gain a better understanding of the design process and different constructions.
Reversible Lace is collection of 7 lace shawl patterns that are completely reversible so that you never have to worry about having the "wrong side" showing.  The patterns include a variety of shapes, including a crescent shaped shawl, a triangular shawl and an infinity scarf that incorporates reversible cables.
Fairy Tale Lace is collection of 7 lace shawl patterns and the fairy tales that inspired the designs.  Fairy tales are an endless source of inspiration, and have been used to amuse, teach, inspire, frighten and entertain all generations. It's only in more recent times that fairy tales have been considered 'stories for children'. Many of the traditional fairy tales contain elements targeted at an older audience. More….
Anna is the designer of the Mystic shawls and enjoys knitalongs where she can meet knitters from all over the world
All of her patterns are available as immediate pdf downloads.  Should you ever have any questions, free email support is available.
Read more about her knitting adventures on her blog.