Gretel's Shawl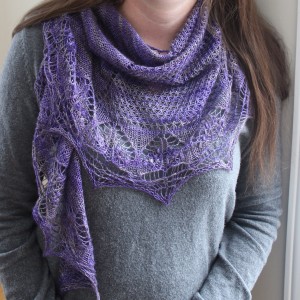 Hansel and Gretel is a German fairy tale, from the Grimm fairy tales. Hansel and Gretel are children in a starving family. Their stepmother convince their father to abandon the children in the forest. The children overhear the plan, and gather pebbles that they use to mark their way home. At night, when the moon and the stars are up, they return home. The next day, they are once again brought into the woods. This time they mark their way home with breadcrumbs, but they are eaten by the birds, and the children are lost in the woods. They wander and find a gingerbread cottage belonging to a witch.The body of the shawl is split into thirds. The centre shows the starlit night, surrounded by solid stockinette for the darker parts of the sky, and the edging represents the decorations on the gingerbread house.
The pattern is charted.
$6.00 / $20.00 (ebook)
Finished measurements:
wingspan: 160 cm (63 in), height: 60 cm (23.5 in)
Yarn:
1 skein of Marrakesh from Handmaiden Fine Yarn  (
70% Silk, 30% Camel –
765 yds/700 m per 100 g)
in Amethyst
Needles: 3.75 mm (US 5) needles
It is available in downloadable .pdf format as a single pattern for $6.00.


It is also available as a part of the Fairy Tale Lace ebook (7 patterns) for $20.00.