Mystic Ocean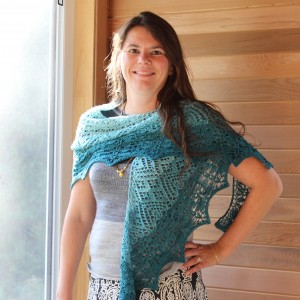 Imagine the vast Ocean – rolling waves, thundering waves, and masses of water. It can be violent or entirely calm and peaceful, intimidating dark gray or brilliant turquoise. You could find yourself sailing on the surface of the ocean, or plunging deep down into its never-ending depths. Mystic Ocean is inspired by the waters that cover more than two thirds of our planet. It's a crescent shaped shawl knit in an enticing fingering weight Gradient Set from Miss Babs! The pattern is charted.
$8.00
Finished measurements:
wingspan: 214 cm (84″), height: 46 cm (18″)
Yarn:
1 Gradient Set (Set of 5 Yummy 2-ply Toes) from MissBabs (100% merino wool – 665 yds/608 m per 6.5 oz) in Aquarius
Needles: 4.0 mm (US 6) needles
It is available in downloadable .pdf format as a single pattern for $8.00.