Mystic Vortex
Swirls of water, whirls in space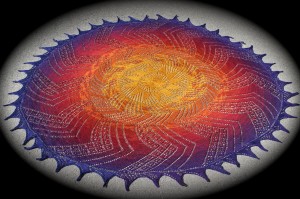 Knits and purls and dashing lace
Growing peaks, converging lines
Round and round so many times
Mystic Vortex, mesmerizing
Lace in circles, so enticing
Welcome one and welcome all
to mystic lace knit in the fall!
Mystic Vortex can be knit as a circular shawl (1,800 yds lace weight yarn) or a semicircular shawl (900 yds lace weight yarn).
The pattern is charted.
$8.00
Finished measurements:
diameter: 183 cm (72 in)
Yarn:
1 or 2 Lace Paintbox Gradients from Fiber Optic Yarns [100% merino wool – 900 yds/ 823 m per 3.6 oz] in Damson-Gold Gradient
Needles: 3,75 mm (US 5) needles
It is available in downloadable .pdf format as a single pattern for $8.00.