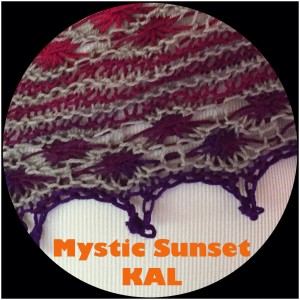 New Mystery KAL for the summer of 2016.
The golden yellow sun grows heavy after a long day and sinks lower and lower. It lingers on the horizon and then dips below, leaving the sky a brilliant cascade of colours – orange to red, fading to pink and into a deep purple night sky.
Mystic Sunset pairs a tangerine to ultraviolet gradient set with a solid colour to create a spectacular sunset shawl in which to wrap yourself.
The pattern is available for $6 until the release of the first clue.



KAL INFO
The KAL is broken into 3 pieces – swatch, and two clues of the pattern
Swatch pattern available immediately.
First clue posted on Friday, July 15, 2016.
Second clue posted on Friday, July 29, 2016.
Note: The pattern has been discounted from the regular pattern price. Once the first clue is posted on July 15, the pattern price will increase to $8.00.
MATERIALS
1 skein Fiber Optics Yarn Foot Notes in sterling (Colour 1)
1 box Fiber Optics Yarn Foot Notes Paintbox Gradient in Tangerine-Ultraviolet (Colour 2)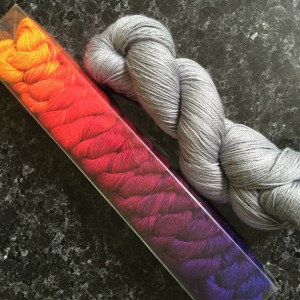 FINISHED (BLOCKED) SIZE
Adjustable in pattern. As shown, with 1 solid skein of Fiber Optics Yarn Foot Notes and 1 Paintbox gradient, you can get a shawl of the following dimensions:
Wingspan: 80 in (202 cm)
Height: 24 in (61 cm)