The Mystic Haven KAL started yesterday.  As always, it's really fun to see the beginnings of people's shawls.  Here is mine, up through the first clue.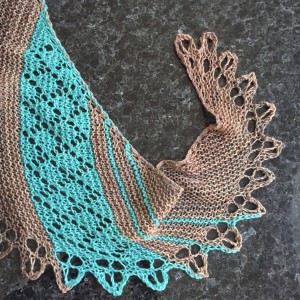 The shawl is knit with one gradient skein like this: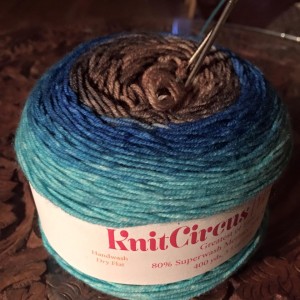 As you can see, the pattern does not just use the gradient from one end to the other, but breaks up the segments and alternates them.  I just love how the colours in this gradient work together, and by using both ends of the yarn, we get to see the different colours touching in the shawl.  It's a little hard to see in the picture of my shawl, but right near the end of clue 1, the colour is starting to get darker and darker, and we'll see more of that colour in clue 2.
If you'd like to join us, sign-ups are still open.  Also, if you haven't already found the Knit & Knag Designs group on Ravelry, come check it out.  There's a discussion thread as well as a spoiler thread with progress pictures of the shawl.