I just spent several days at the St. Peter's Abbey in Muenster, SK.  The Saskatchewan Stitches Conference takes place here every year, and I was one of the instructors.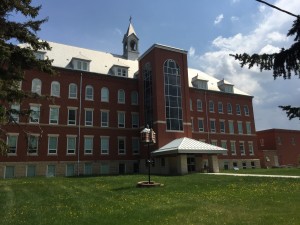 The conference is organized by Haus of Stitches in nearby Humboldt, SK.  Haus of Stitches is a lovely store that carries just about everything you need for quilting, sewing, knitting and crochet.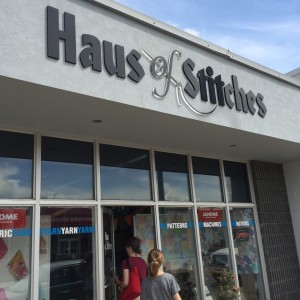 When I visited the shop, I was immediately drawn to the wall with this gorgeous quilt having on in.  And after a while, I realized that my books were on display on top of the shelves filled with yarn.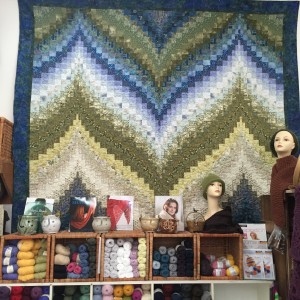 I arrived at the Abbey on Thursday afternoon, and had dinner with the group.  In the evening Jodi Barrows gave a talk about her Square in a Square quilting system.  I'm not a quilter at all, but I was intrigued by her applied geometry skills.
Over the course of the next 3 days, I taught 6 knitting classes.  On Friday we kicked off with an introduction to lace where we learned everything from basic lace stitches to how to read charts, and how to block your lace.  And then in the afternoon we continued with a class on how fix mistakes in lace knitting.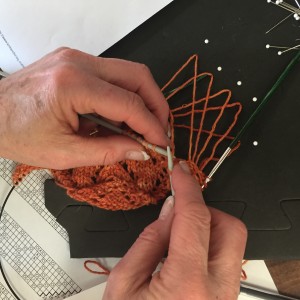 Everyone did really well.  Here's a picture of one of the students repairing her lace work.  Several people told me afterwords that they would never have attempted such complicated repairs before the class, but that they were feeling quite confident they had learned some new skills that could be applied in future projects.
On Saturday I taught two classes on shawl construction – basically how to create shawls in different shapes.  In the morning we looked as basic triangles and rectangles, and covered some of the more common shapes.  And in the afternoon we made several different types of crescents and circles.  Towards the end of the class, the students were all able to look at shawls differently, and just by a glance tell how the shawl was constructed, and not only that – they could apply the knowledge and knit little mini-shawls in that shape without any instructions from me.  I consider that a great success!  I look forward to seeing some future designs from these talented ladies.
On Monday, we shifted gears entirely.  In the morning we were doing colourwork.  We tried out hands at slipped stitch knitting, intarsia and stranded knitting (Fair Isle).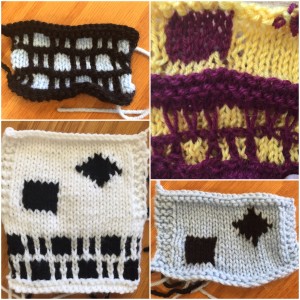 And in the afternoon we covered four different ways of making reversible cables.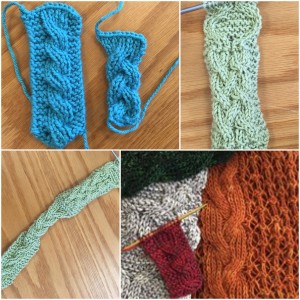 The evenings were full of show and tell, and various presentations.  I did say before that I'm not a quilter, but I really did see some fabulous quilts.  I won't share them all here, but one of my favourites was this Gypsy Wife quilt, quilted by Dianne Jansson.  It almost makes me want to bring out the sewing machine.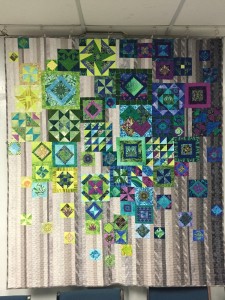 All in all – I had a wonderful time at the Saskatchewan Stitches Conference.  Can't wait to go back!