I'm really excited to share my new collection with you!
Reversible Lace is an e-book with seven completely reversible lace patterns. There will be patterns added over the next several months (roughly one pattern per month) with new and exciting lace shawls to knit.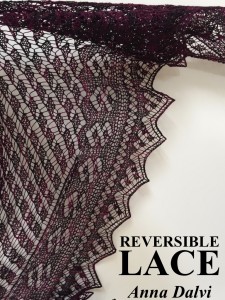 I've been working on this project for several years – researching reversible lace patterns, and putting them together in new and exciting designs. These shawls are meant to be worn, and you will never have to worry that the "wrong" side is showing, since there is no wrong side.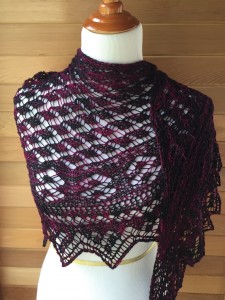 The first pattern in the collection is Cosmonita. It uses old Shetland motifs to create an airy shawl with various diamond patterns on the body of the shawl, and a delicate edging with clusters of stars.  Cosmonita is worked in several different directions. It starts with a provisional cast-on for the body. Then stitches are picked up for the diamond border, and the shawl is finished with a knit on edging. The shawl is garter based and there are no purl stitches used.
The shawl uses approx 140 g (500 yds) of yarn.
The collection is published as an ebook containing 7 shawl patterns. The subsequent patterns will be added over time, during the period August 2017-March 2018. You will receive an email notice each time an update is available. Please click on the link and download the latest version of the ebook. Each update will include all the patterns released to date.
The Reversible Lace collection is available as an e-book for $20.



Patterns are also available to purchase individually.
Cosmonita is available as a PDF download for $6.00